Luxury Vinyl Flooring -- Vancouver and Lower Mainland BC
Luxury vinyl flooring – tiles and planks -- are among the newest product lines from flooring manufacturers. There are a number of attractive advantages to luxury vinyl flooring: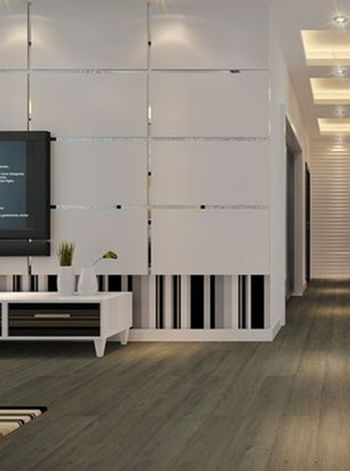 Prices are lower than engineered hardwood because of the advanced manufacturing processes.
The look and texture of the luxury vinyl products that we carry closely resembles some of the best engineered hardwood flooring products.
Compared to hardwood, luxury vinyl feels warmer and softer for your feet. Plus, it wears well in both busy family and commercial settings.
Spills and leaks won't damage your floor as our luxury vinyl flooring is waterproof.
The manufacturing of the product doesn't require chopping down trees or shipping exotic timber far a field.
Interested in touching and feeling our luxury vinyl planks in person? Give us a call at (604) 244-0780 or contact us online to arrange an in-home flooring consultation.
Luxury Vinyl Flooring for Your Home or Property
Whether you are considering flooring for your home, rental property, office or retail space, we have a luxury vinyl option that is suitable for your space. Our luxury vinyl flooring portfolio includes Karndean Design, an especially popular brand with Vancouver and West Coast residential customers. It offers affordable luxury with wide planks, wood grain appearance, easy maintenance and reliable performance.
For higher traffic and public areas, the Synergy Planks family of products combines the look of top of the line crafted hardwood with commercial grade performance.
Call us today at (604) 244-0780 for a free consultation and/or fill out our luxury vinyl estimate request form.
Luxury Vinyl Flooring FAQ
Which are the best areas in my home for luxury vinyl plank?
Luxury vinyl is a great choice for any area because it feels cozy, looks like real wood and stands up well to scratches, dents and general wear and tear. With the appearance of a high-end wood product, it shines in spaces where you want to impress. Plus, because it is 100% resistant to water and moisture, luxury vinyl is perfect for kitchens and bathrooms. Cleaning and maintenance is also a breeze, making it a favourite among pet owners.
Cottage Carpets Luxury Vinyl Product Gallery >>
Do you install the luxury vinyl product that we purchase from your store?
Yes. We are a full-service flooring retail service, therefore when you purchase a product from us, we will provide the installation service. See our luxury vinyl installation service for more information.
How are luxury vinyl planks installed?
There are three methods for installing luxury vinyl products:
We carry extensive colour and style options for all three types.
Which is the most popular luxury vinyl type?
The sumptuous appeal of the click-lock and the glue-down engineered luxury planks are especially popular with consumers.
What are the advantages of glue-down luxury vinyl installation?
Glue-down luxury vinyl planks will never develop gaps. They remain seamless throughout their lifetime even when the humidity and temperature fluctuate in your home. In addition, they can be installed as a continuous flooring across rooms and hallways without the need for transition pieces.
How does loose-lay installation compare to glue-down?
While both loose-lay and glue-down installations are suitable for large continuous spaces, loose-lay luxury vinyl flooring only requires gluing around the parameter of the flooring. It's a common choice for basements and game rooms as well as the common areas of apartments, strata and community buildings.
Are there limitations to click-lock luxury vinyl flooring?
Click-lock (or floating) luxury vinyl planks, like floating laminate and engineered hardwood flooring are designed to provide continuous coverage only to a certain length. The maximum length depends on the on the product and the brand. 12 meters is a frequently used maximum length value. Transition pieces may also be required in certain cases, such as for adjoining rooms and hallways.