Pet-Friendly Carpet From Flooring Specialist in Vancouver
It's all about the pile – and the style. Pet lovers who crave the elegance and comfort of a soft fuzzy carpet can relax with our line of pet-friendly carpets. We carry some of the best brands, offering pet lovers of Vancouver and the Lower Mainland quality carpets that are long lasting and easy to clean while allowing your pets to dig into the plush, dense piles without entangling their claws.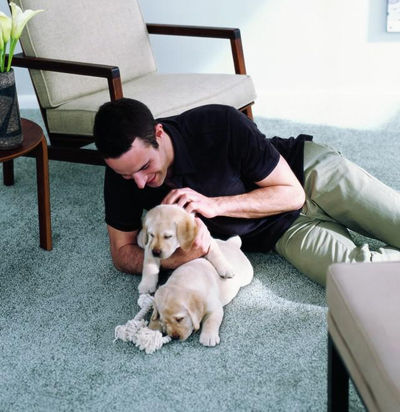 Our pet-friendly carpet collection from Beaulieu Canada, Mohawks Flooring and Dream Weaver Carpets is designed and engineered specifically with pets in mind, ensuring that dog and cat lovers find the ideal solution for their homes. Unlike the slippery feel of hardwood and tile floors, pet-friendly carpets provide a surface for dogs and cats that feel natural to them.
Visit our home carpet gallery to see the full colour range of our pet-friendly carpet collection. Or, to learn more about our pet-friendly carpet collection, please call us at (604) 244-0780 or send us your enquiry online about your upcoming flooring project in Vancouver and the Lower Mainland.
Pet-friendly carpet collection offers an ideal solution for Vancouver pet owners
Comfortable for your pets: your pet(s) will appreciate the non-slippery and warm flooring
Easy to maintain and clean: the carpet has high level repellent property meaning that it is easy to clean out any dirt or stain that comes with having pet in your home
Stain and pet urine resistant: you don't need to worry about staining your carpet even if you apply detergent
Rich and dense piles that stand up well to the digging and clawing of your playful, furry friends without entangling their claws.
Green credentials: they are manufactured with sustainable or recycle material and are highly recyclable
Health: The stain resistance of the carpet is an inherent property of carpet yarn and it is not created by a chemical treatment of the yarn
Call us for more information at (604) 244-0780 if you are a Vancouver Lower Mainland pet owner who wants the beauty, warmth, and comfort of flooring; or fill out our online carpet enquiry form.